Say hello to Hattie, my spunky girl.
OOAK Blythe Doll Custom no 43.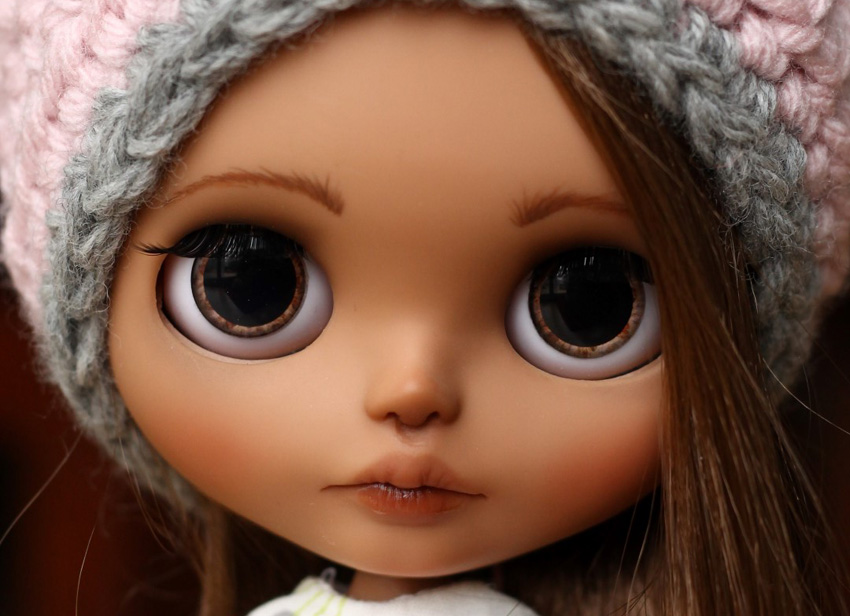 Little Harriet prefers to be called 'Hattie'. She thinks it's got much more spunk. It suits her well because she's exciting to be around. She's bright, savvy and independent and constantly moving. This little girl knows how to live life to the fullest.
Theres a lot of power in this little package. She inspires others with her courageous outlook on life. If you have a bold choice to make, look to Hattie for support. She will tell you to close your eyes and think of each scenario… then she'll ask 'which one makes you happy?' The simplicity of children is plain astonishing.
She's mesmerized by the trapeze at the circus, or 'the swinging people' she calls them. She swears that's what she wants to do when she grows up.
Hattie is looking for a mommy or daddy to support her dreams.
Her base doll is a tan factory, ball joint Blythe Doll purchased new for customization.
Hattie is my 43rd customization, made with care and pure love.
She will ship with the clothes, hats and shoes pictured.
She is a factory RBL mold, with a ball joint body.
Here's the work that's been done:
4 real glass eyechips with realistic eye designs made by me.
Face sanded smooth and carved in detail.
New makeup with high quality artist pastels.
Sealed multiple times with the best quality UV protected sealant.
Textured and Speckled sleep eyes with custom pull charms.
Back plate signed and numbered, including her birthday.