Here is Sophie, My First Custom Blythe Doll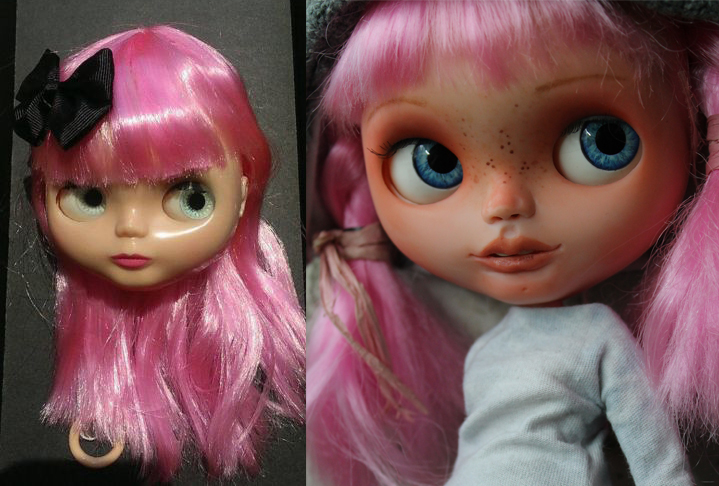 Before and after.
Here goes nothing! Never in my wildest dreams would I think I'd be working on my very own custom blythe doll. Heck, I just got my first one a week ago! But there I was, ordering another. Well, just the head as you can see from the photo above. Because by golly, I want that ball joint body. It's on its way from Japan as we speak (in New York right now!)
I sanded her down, carved her mouth and nose, philtrum and chin, added makeup and freckles, changed her eyelashes and curled her hair. I added new hemp pulls strings and gave her sleepy eyes. And I pulled out those crazy green eye chips. Those are the worst! So ugly on this type of blythe clone. Sophie's head is a basaak clone, the cheapest of the blythe dolls. But you don't want to practice the first time on an expensive blythe doll! It's quite a nerve wracking experience, even on a cheap doll.
An experienced blythe doll artist would probably be cringing. I messed up in so many ways, didn't have the right tools, too coarse sandpaper, not the best carving tools. The curls fell out of her hair almost instantly. Her eyelashes were too wide. I carved a gaping hole into her mouth… But I've come to one very simple conclusion. Blythe dolls are so stinkin cute, you can't mess them up. AND even though they're clones, and I'm a total noob, I'm having a great time with my new blythe doll obsession.
So here is Sophie, my little pink baby. My very first custom blythe ever. Even though I messed her up a little here and there I really love her. Pink hair looks so sweet on these little dolls.
Say hello to Sophie! She is a ooak custom basaak blythe doll clone (fake).
Enthusiastic Sophie is so high spirited and courageous, she'll surprise you at every turn. A naturally happy girl, she'll warm your heart with her jubilant presence. She loves to inspire others to make a difference in the world. If you have other girls, she might shortly be leading her new friends on grand adventures. Her name means wisdom and she doesn't fall short. This intelligence, combined with her happy demeanor, allow her adventures mean so much more.
She is a reworked rendition of my 1st custom Basaak clone, made with care and pure love.
She will ship everything pictured here. All clothes made by me:
– Light blue long Sleeved T-shirt, sweater skirt and petticoat skirt outfit
– Matching gray sweater hat with lamb ears.
– Matching light blue socks. (there's a spot on one the tip of one of the toes)
Here's the work that I've done to make her beautiful:
– 4 custom pairs of eye chips created by me.
– New Eyelashes.
– Sleepy eyes.
– 2 New Custom Beaded Pullcharms.
– Face sand-matted.
– Lip, nose and philtrum carved.
– Teeth!
– New makeup with quality artist pastels.
– Signed by me, AdorablyMini and numbered on the back of her head.
– Sealed with MSC flat UV.