Of all the dolls in the world, there is ONE that I love the best. The Blythe Doll. I wasn't really a 'doll person' before I discovered Blythe. To think, what I was missing all of those years 'adulting'.
Today, I can honestly say that I love dolls. Since I started collecting Blythe Dolls, I've started expanding my scope, looking at other dolls.
I have a small collection of Monster High Dolls. They're so easy to find and relatively inexpensively priced like Barbie, and they can be customized. My creative brain goes crazy. Such beautiful fantasy dolls have been made on the base of Monster and Ever After dolls.
But their body style is that of a woman. And though it's beautiful, I just gush over younger dolls.
My guess has always been… it's because I never had a little girl. My son fulfilled all the boy interests, toy trains, action figures, football, video games. And active outside play was the best. The muddier my son got, the better.
But I never had a little girl to brush her hair, dress her in cute clothes and have tea parties with. Maybe something was missing in my brain, and so I gravitated toward dolls.
There's a huge population of women who are avid American Girl doll junkies and collect them on their own and with their children. It's fantastic! Grown women SHOULD play with dolls if they so choose. 😀 There are AG seamstresses who sew beautiful clothes and even sell clothes for them. But for some reason, I never caught the AG bug.
If I were to dissect my reasoning, here's why I think why it never happened. I believe that American Girls are portrayed to be about 8 to 12 years old. But they just don't seem to look like 8-year-olds to me. Maybe its in the teeth or the smile that makes me see a much younger girl, maybe 3 years old.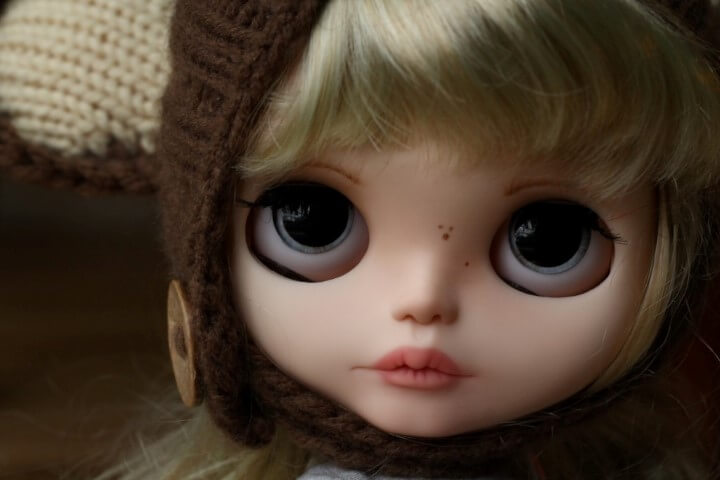 I'd age my collection of dolls from 5 to 7 years of age. I have such an affinity for 5-year-olds. Its because that was one of my favorite ages, for me, and for my son.
Though there are a lot of variations, none of my girls are older than 7 years of age. Even the theme characters and fantasy characters I've created stay within these ages.
I've created 2 farm girls. Each is respectively 5 and 7-year-olds, ready to start working on the farm, and just learning their potential of what they want to grow up to be.
I created the 'Lady of the Lake', from the King Arthur lore. The little girl version, long before she met merlin. Any fairies are child fairies.
In this age range, there's such sweetness. The enormous head and big undeniable eyes push that to the extreme. Add some fairy ears, and a custom dress and you have a perfectly adorable little girl fairy.
I also think its because of the realism that I'm so totally obsessed with Blythe.
Custom work pushes their sweetness factor to the next level. Realistic carving of the lips and nose really brings these girls to life. Custom eye chips give them enormous amounts of soul.
They stare right into yours as well and grab onto your heart. Then hair, clothes, hats (current and vintage) drive it home. They may not look REAL (i think that might be just too weird) but it all comes together to make them so much more believable.
Add a ball joint body for authentic poses and cute head tilts and the deal is sealed, for me anyway.
I fell in love with Blythe from the first moment I saw them. I didn't even know what they were. But yes, original Blythe dolls aren't quite as special to me as custom dolls, even though I loved my first and held off customizing her for a year.
When my mother brings her friends over (ages 60 to 80) they all ooh and ahh over my dolls. I'd say 9 out of 10 really are fascinated with this strange little creation. Though some people still think they're creepy (my son's reaction to my Blythe Doll 'Set it on Fire!' haha) but they're well-received by most people and they see what I see…
The cutest little girl in a small package.